Top Furniture Brands at Dining Furniture Showcase: Part 1
4.3.19
Dining Furniture Showcase carries a large variety of furniture brands that specialize in dining furniture, ranging from lower-priced imported goods to high-end custom order and hand-crafted Amish furniture. Here are some of the top brands at Dining Furniture Showcase.
1. Canadel
Canadel is a custom order specialty dining furniture manufacturer out of Quebec, Canada. Featuring 100% North American solid birch, the custom order options available through Canadel are endless- from mid-century modern styles to rustic and traditional looks, Canadel has more options than any other dining furniture manufacturer. For customers looking to create something distinctly their own, Canadel is the go-to choice.
2. Amisco
Amisco is another specialty brand from Canada, featuring welded, 100% high-grade steel frames. Highly customizable, Amisco lets customers choose the colors and finishes of metal, upholstery, and wood. While generally modern in style, Amisco also has rustic and traditional styles. They also put a 10-year warranty on all of their steel frames. Commercial-grade quality makes Amisco some of the sturdiest dining furniture available.
3. Door County Amish Furniture
Door County Amish is a premier American solid wood furniture manufacturer out of Ohio. Working with solid cherry, maple, oak, elm and hickory, Door County Furniture features hand-rubbed finishes and one of a kind, custom made pieces. Ranging from traditional to contemporary styles, there are a huge amount of custom options available on this heirloom Amish furniture.
4. Chromcraft
Chromcraft is an American manufacturer of casual dining, specializing in swivel tilt chairs with casters. Known for their comfort, these dining sets feature durable formica table tops and extra-comfortable chairs that swivel, roll, and tilt. Chromraft offers customers the ability to customize their sets, with a large selection of upholstery and size options.
5. Winners Only
Winners Only is a furniture manufacturer that specializes in dining furniture. Using imported materials, Winners Only offers a huge variety of up to date styles, with a focus on design and quality at affordable price points. Most of their furniture is solid wood. Winners Only has a large selection of counter-height dining sets, an increasingly popular option for kitchens and dining rooms.
These are just some of the brands we offer at Dining Furniture Showcase. Stay tuned for our next blog post to learn more about some of the other brands we carry.
Additional Resources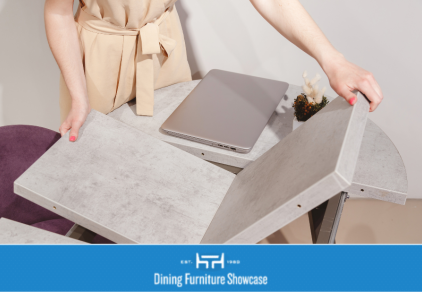 Many dining tables have extensions to make them bigger or smaller. The ability to change the size of your table is useful if you have limited space but need room for more seating on occasion. During holidays and other events, it's nice to have a…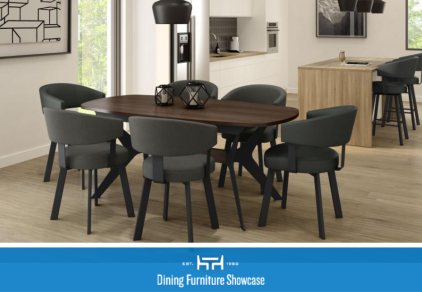 There are seemingly countless options when it comes to choosing upholstery fabric for your dining room chairs. Most in-stock items are typically available in limited colors in either a fabric or a washable vinyl upholstery. If you're customizing…