Tips to Get Your Dining Room Furniture On Time
10.2.20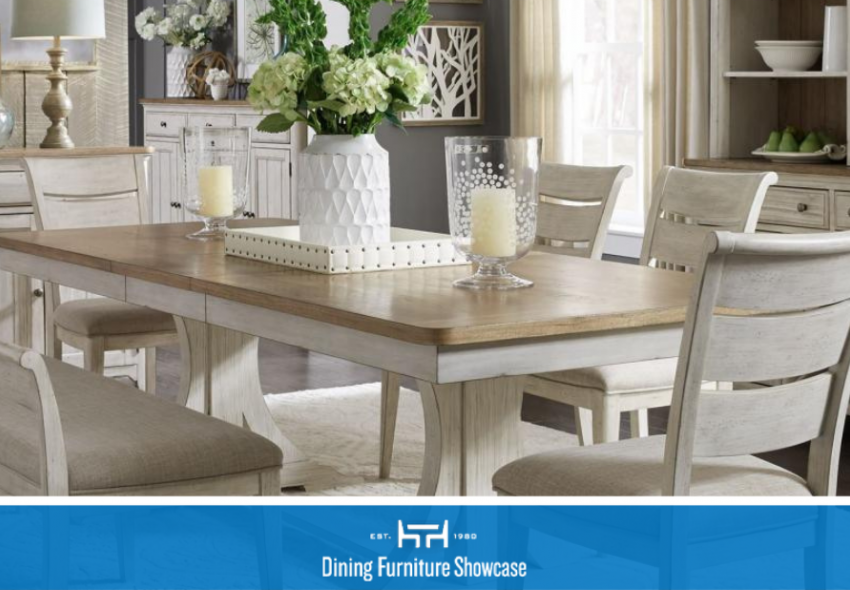 A dining room table can be a designated area for the family to gather together and enjoy a meal. However, there are many other ways to use a dining table. In today's COVID-19 world, it can be your office area. For your kids, it can be an area for them to complete their schoolwork. It can also function as a crafting space or even a place to play board games together. Whatever you use a dining room table for, it is an important piece of furniture for your home. If you are looking to purchase a new dining room table before the holiday season, you need to plan accordingly. Our world is much different due to COVID-19 and that means that there may be a delay in having your desired table arrive on time. Here are some factors to consider as you shop for a new dining table.
Overseas Manufacturers
When planning to order your new dining room table, your order will likely take longer to be completed due to COVID-19 restrictions. Ordering from overseas manufacturers can be an option if you want a particular style. For orders involving overseas manufacturing, the wait has gone from 6-8 weeks to 12-20 weeks. You want to make sure that you have your order placed in time for any planned special events. Consider other brands, such as Canadel and Amisco, which are both based in Canada. Order ahead of when you'll need your new dining room furniture.
Canadel
Canadel is a family-owned company. This company offers over 65 models of tables to choose from, which are also customizable. But if you are looking for a particular style there are several to choose from. The Downtown collection is perfect for those who like a cross between the modern and contemporary look. The East Side collection blends wood and metal to create a trendy industrial style. For those who enjoy the classic look, the Gourmet collection may be for you. Or, if you prefer the charming farmhouse style, the Champlain collection may be up your alley. Order soon, ship times have increased.
Amisco
Amisco offers a wide variety of the latest trends in styles and sizes of furniture for all types of homes. Their products are made to last yet, are comfortable and stylish. You will easily be able to find furniture that will fit into your apartment, condo, home or cottage. The styles are made to please any taste. If you prefer a traditional style, check out their Farmhouse collection. If you are into the classic look then the Alex collection may be for you. If you're strapped for space, the Kai and Harrison collections are surely going to satisfy your taste. New products are continually offered, or you can even customize a particular look with different wood and glass tops, sizes and finishes. Consider Amisco for your dining room table, as they may have the right look and price range.
Amish-Made Furniture
If you want a well-designed and quality-crafted dining table, consider purchasing an Amish-made table. Even during this unprecedented time of COVID-19 restrictions, the Amish are still producing furniture promptly.  Many people desire Amish-made furniture in their homes, as they are beautifully crafted and unique pieces. Using all types of wood, such as maple, elm and cherry, you can have any style of table that you desire, as they can be customized for any size, shape and color. Check out a sampling of the Amish-made dining furniture we offer here! 
Tips for Ordering Ahead
The holidays are coming soon, and you want to be prepared for it. Think about if you'll be having your extended family over for any meals on Thanksgiving or Christmas. This is also a time where people are hosting dinner parties, contemplate how many people will need to be seated at your table. We recommend that you purchase your new dining room table as soon as possible in anticipation of the longer ship times. With custom orders, take-it-with-you stock, mix and match-with over 30 top-name brands, you will be sure to find what you are looking for. Plus, our "Guaranteed Low Price" policy assures that you are getting the best deal. If you have questions regarding our styles of dining tables, feel free to let us know your concerns, and we can talk about the right option for your dining room.
Additional Resources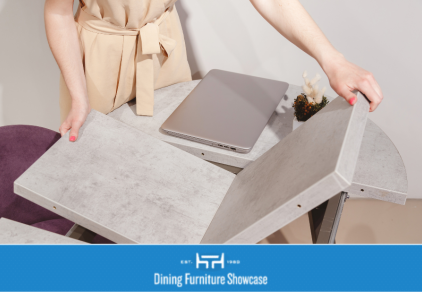 Many dining tables have extensions to make them bigger or smaller. The ability to change the size of your table is useful if you have limited space but need room for more seating on occasion. During holidays and other events, it's nice to have a…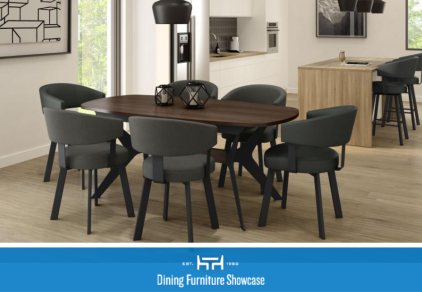 There are seemingly countless options when it comes to choosing upholstery fabric for your dining room chairs. Most in-stock items are typically available in limited colors in either a fabric or a washable vinyl upholstery. If you're customizing…