Table Top Materials and Their Benefits
12.18.18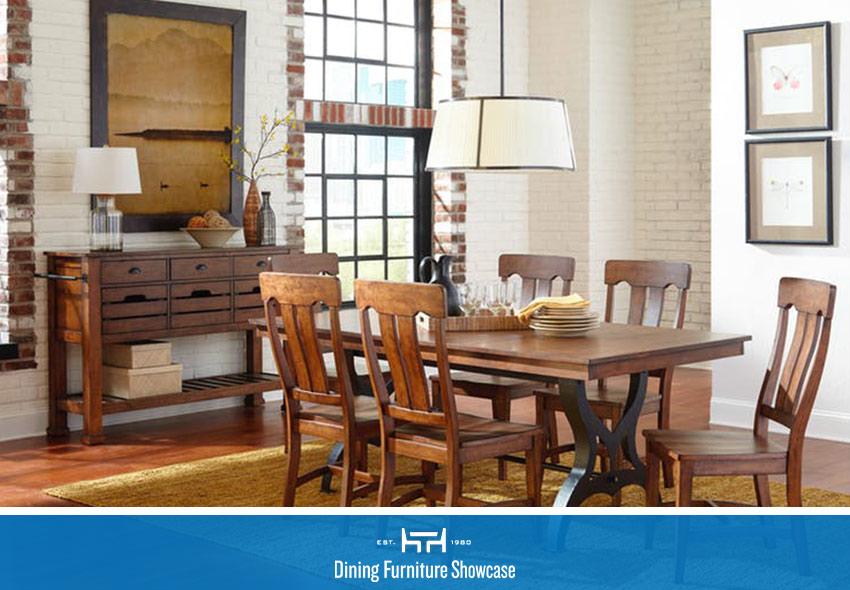 Your dining room is a place for your friends and family to gather and can often be the focal point of your home. Suffice it to say that a dining table needs to be made of durable materials that hold up to daily use and have a proper amount of seating to suit your needs.
But have you given much thought to the dining room table top? Choosing the right material for your needs can leave your head spinning- do you want a laminate top or solid wood? How about marble or glass? Is formica a viable option?
Since a dining room table can come with a significant investment, you'll want to be informed and know exactly which dining table type you should look for. Let's look at the benefits of different table top materials so you can make a well-informed decision on what style and material of table top will work best for you.
Solid Wood table top benefits
Solid wood is what most people who use their tables daily will want to look for- a natural material that holds up well to lots of use. One major benefit of solid wood is that it can be sanded and refinished over the years, while other table tops do not allow this option.
There are different types of hardwoods including birch, maple, oak, elm and cherry. Each type of wood has its own look and feel as well as their own benefits.
For instance, birch has a naturally smooth finish with a tighter grain that gives you the look of maple or cherry but in a harder wood. It also stains very well, lending itself to a huge range of finish options that show off the natural beauty of the wood.
Maple comes in several varieties and is known for its hearty grain and pristine lines. While slightly softer than birch and oak, maple can lend an upscale look to your dining room and has a silky and smooth finish.
Oak is one of the most durable of commonly used woods for dining furniture. With a wide and open grain, it holds up especially well to surface scratches and can very easily be sanded and refinished.
And cherry wood provides dining rooms with elegance and warmth with it's naturally striking grain and color variation, though it is softer than other hardwoods making it more vulnerable to damage.
Laminate Table Top Benefits
Laminates, also known as veneers, are another commonly used material for table tops. This is a thin layer of wood over another wood material. Veneers allow furniture designers to make designs, patterns and inlays in a dining table. While beautiful and interesting, veneers can be more susceptible to damage and much harder to fix when damaged than solid wood. Laminate table tops are usually less expensive than other types of tops as the amount of solid wood used is much less.
Glass Table Top Benefits
Glass table tops have always been a favorite choice for dining spaces because they are extremely easy to clean and care for while providing a sleek and modern look. Clear glass can take up less visual space in a smaller area, making the room feel more open and airier. Glass can also come in smoked and colored varieties, opening even more design possibilities.
Formica Table Top Benefits
While there isn't as much variety available with a formica table top, it is a commonly used material because of its extreme durability. It holds up excellently to water, scratches and any other type of potentially damaging surface use. Most formica used for table tops is made to resemble oak, however there are some other colors and varieties available. Most formica tables have a solid wood edge, adding to the authenticity of the look.
Because there is so much variety available when choosing the type of table top that will suit your needs it's important to consider how you'll be using the table. Are you furnishing a formal dining room that will only be used occasionally? Perhaps a laminate top with an elegant pattern or a beautiful softer wood like cherry will fit the bill. Are you looking for a kitchen table that will hold up to daily use? Maybe it's better to consider a hard-solid wood or a formica top. Looking to create a modern and trendy space? Glass might be what you're looking for.
Here at Dining Furniture Showcase, we feature Wisconsin's largest selection of dining furniture so it's easy to compare all the different options available when choosing a material for your table top.
Additional Resources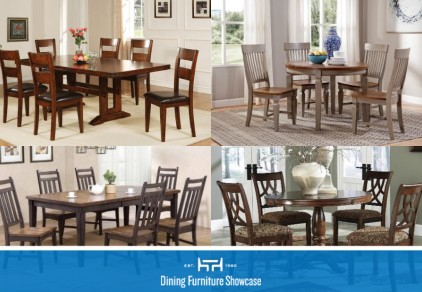 There are seemingly endless options when it comes to choosing a table that will suit the needs of yourself or your family. While color and style options are limitless, there are some basic things that apply to all dining tables that are important to…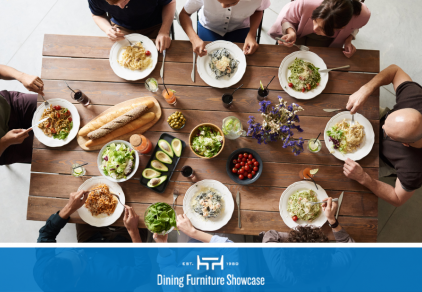 Over the past year, your dining room table has become so much more than just a place to eat. It's become your home office, a virtual classroom for your kids, a place to have Zoom meetings with your friends and family, a place for puzzles, crafts and…