A Guide to Canadel Furniture Collections
7.13.20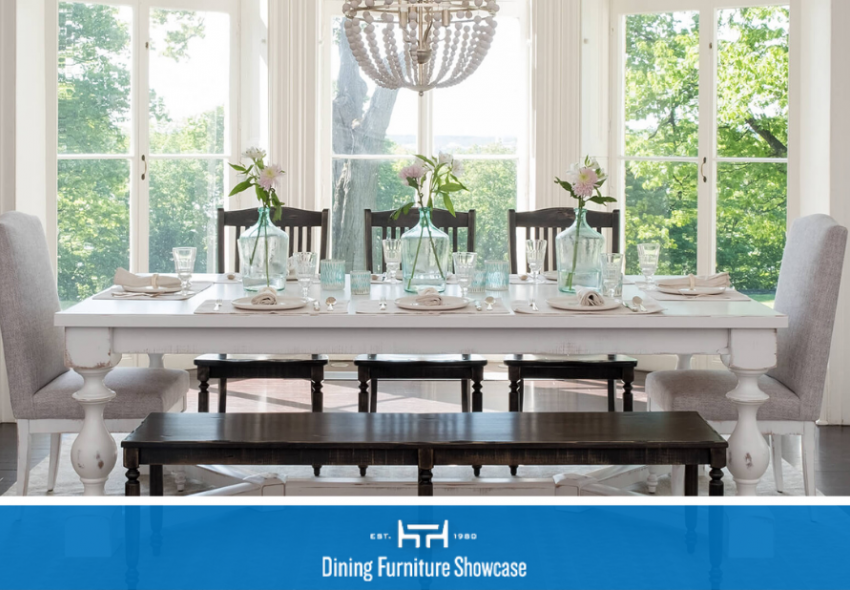 From Classic to Contemporary, Canadel furniture is the premiere manufacturer of kitchen and dining room tables. Based in Quebec, Canada for more than 30 years, Canadel provides countless custom order options in solid birch, with over 50 finishes to choose from and almost size or shape you could imagine. Canadel divides their products into different collections based on style. Here are the different collections and the characteristics that define them.
Core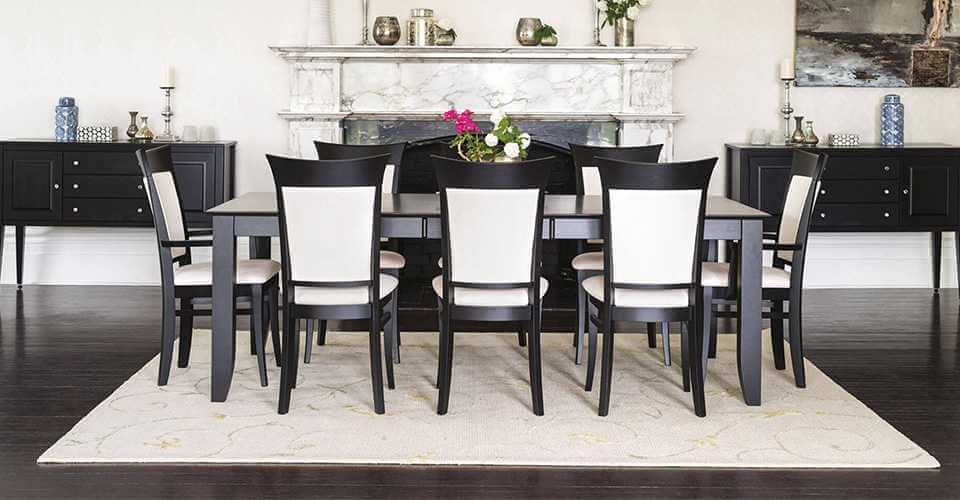 The Core collection by Canadel is the largest and most versatile collection they make. Available in a sleek matte finish or an antique finish, this collection gives you access to every Canadel finish and every size they make. Choose your shape, pedestal or leg style, table edge, leaf options, and height. In the core collection, you can truly design your own dining set whether it's traditional, transitional or contemporary.
Champlain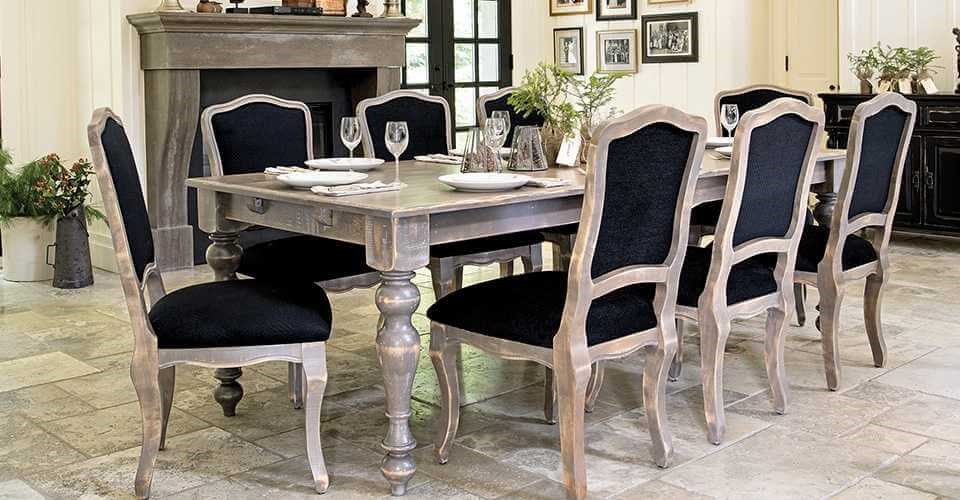 The Champlain collection features distressed, rustic finishes to provide that sturdy, time-worn farmhouse look. Inspired by colonial craft techniques the warmth of the wood takes centerstage in this collection. Unique to the Champlain collection is the incorporation of breadboard leaves, a more traditional type of table leaf that attaches to the ends of the table rather than the more typical center leaf. You can dress up this collection with plush upholstered chairs, or keep it casual with simple, solid wood farmhouse chairs.
Downtown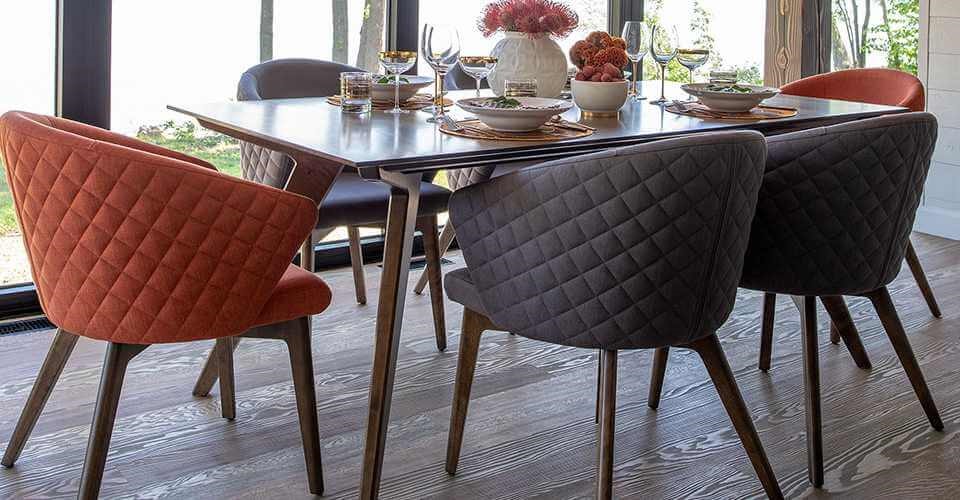 The Downtown collection is Canadel's group of mid-century modern and contemporary table sets. Defined by subtle curves and angular lines this timeless look has proven to be a classic. This collection has sleek, solid birch tables and also offers several glass table options, even allowing you to choose the color of glass ranging from subtle gray tones to dramatic shiny red glass. The chairs in the Downtown collection are mostly upholstered buckets with angled wood legs and come in a variety of solid color fabrics and leathers. You can even add quilting to the shell of the chairs for an ultra luxe look.
LOFT
The LOFT collection by Canadel is inspired by the factories and workshops of the Industrial Revolution. Featuring a hand applied distressed finish, extra thick table tops, and chunky legs and table bases, these tables are extremely durable and solid. With straight lines and angles, this collection is the more modern rustic collection by Canadel. Some models in this group incorporate steel elements which really add to the industrial edge of this collection. LOFT also makes several glass table options for a mix of rustic and contemporary styles.
Gourmet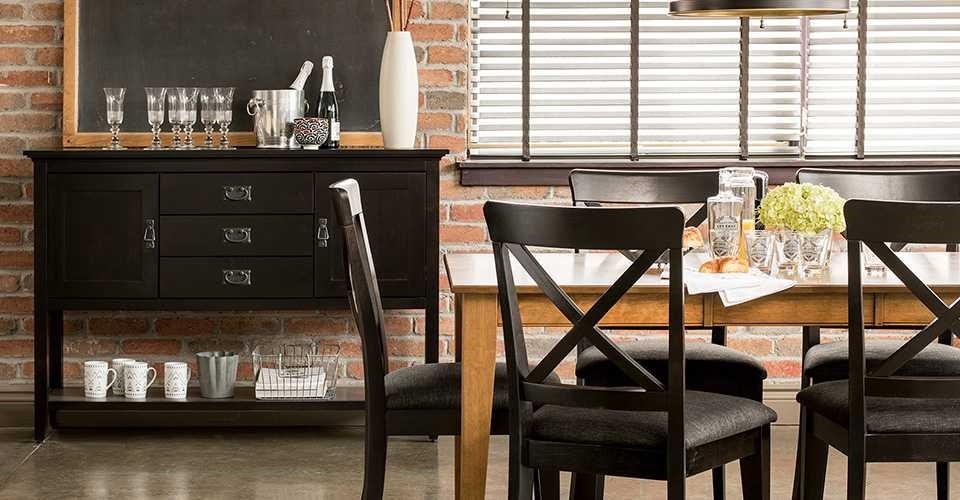 The Gourmet collection by Canadel is a wonderful option for creating a customized dining set at a lower price range. Slightly more limited in color, size, and chair style options there are several gorgeous finished to choose from. The biggest difference with this collection is that only the table tops and chair seats are solid birch, and chair frames and table legs or bases are constructed from havea hardwood, whereas the other collections are completely solid birch. Retaining the strength and quality of the other collections, using the imported hardwood keeps costs lower on this collection.
After more than 30 years, Canadel continues to be the leader in custom made dining furniture produced in North America. Their commitment to quality and style has made them a favorite of so many of our customers. For heirloom quality furniture that you can design yourself, Canadel is a great brand for customers who want something specific. Visit their customization page and start designing the set of your dreams!
Additional Resources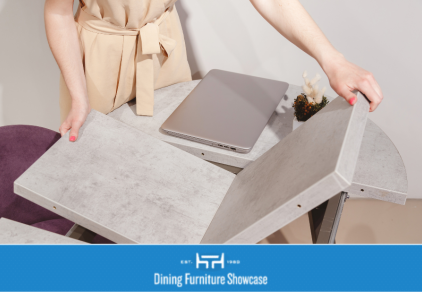 Many dining tables have extensions to make them bigger or smaller. The ability to change the size of your table is useful if you have limited space but need room for more seating on occasion. During holidays and other events, it's nice to have a…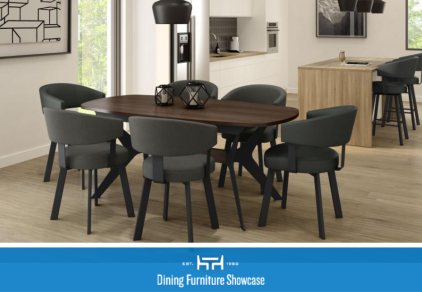 There are seemingly countless options when it comes to choosing upholstery fabric for your dining room chairs. Most in-stock items are typically available in limited colors in either a fabric or a washable vinyl upholstery. If you're customizing…