Counter Height Dining Sets: Pros and Cons
12.9.20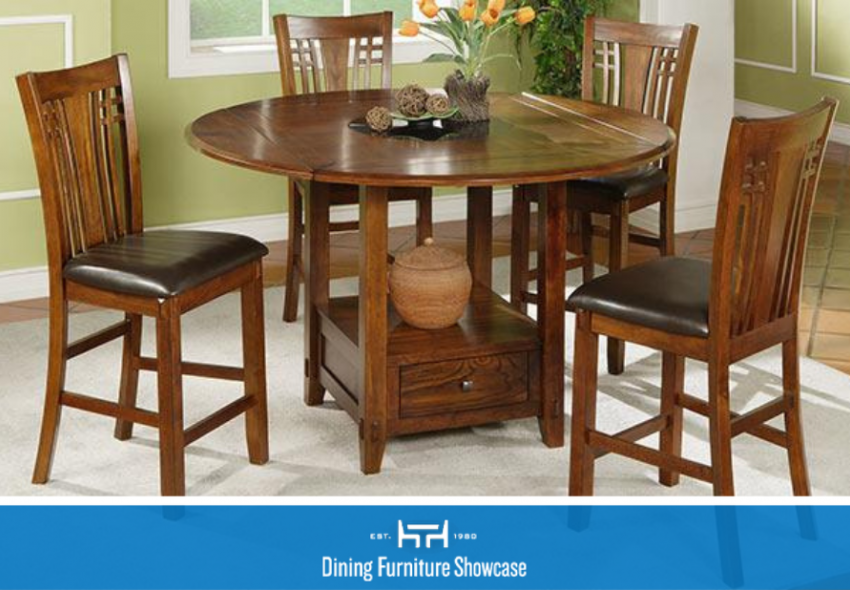 Counter height dining furniture has been around for a long time. Originally conceived of as extra preparation space for the kitchen, the first counter height sets were kitchen islands that typically went into eat-in kitchens to provide counter space as well as a small area for a couple of people to eat quick meals. Over the last decade or so, counter height sets have evolved to include almost any type of table set you might find at regular dining height, and are now found not only in kitchens, but also formal dining rooms, open concept areas and recreation rooms. The only major difference between a counter height table set and a regular set is the height: standard dining height is 30" to the top of the table, while the standard for counter height is 36". What difference do those 6" make? The answer is quite a lot!
Advantages of Counter Height Dining Sets
First, let's talk about all the advantages of having a counter height dining set. Just like the earlier kitchen-island type counter sets, taller tables are a great way to add counter space to your kitchen area. Kitchen counters come in at standard 36", the same as these counter height sets. This height is comfortable to stand and work at, so you are able to use the surface easily without any seating. This is also a reason why these sets are so good for entertaining. People can stand around the table with food or beverages without needing a seat to use the tabletop. This is ideal for large gatherings when there might not be enough seating for everyone- there is still space for guests to eat and socialize at the table without a chair. Also, if you do have a kitchen island with space for stools, the stools can be used at the counter-height table as well for extra seating.
Other reasons people lean towards counter height sets include being able to better see the view from a kitchen or dining room window. Those six inches make a difference and you often have a better vantage point from the higher height. Another reason is pets! Customers have mentioned having dogs or other pets that are constantly prowling around the dinner table for extra food- the higher height makes it harder for furry friends to sneak an extra snack. The 36" height can also be ideal for working from home, depending on your preferences. For people who like to take breaks from sitting at the computer and stand up for a while, the 36" height makes this very easy to do.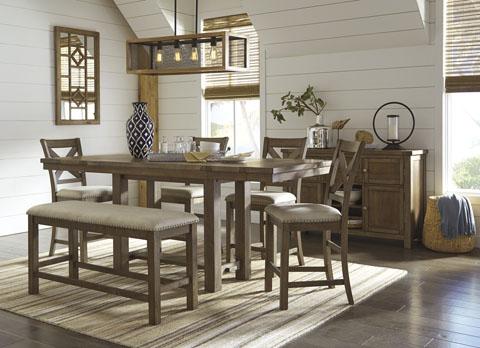 Reasons for Choosing Regular Dining Sets
What are some reasons why someone might want to stay away from counter height dining sets? There are several reasons, but most have to do with comfort and aesthetics. For instance, older folks or people with poor circulation may find it uncomfortable to sit for long periods of time without both feet on the floor. The counter height sets have seats that are 24" high (as opposed to the standard 18" for lower sets) and this can put pressure on the back of the leg behind the knee. Also, people with limited mobility or shorter stature may find it cumbersome to make their way up to a counter height seat.
People with smaller spaces, shorter ceiling heights, or low hanging light fixtures may want to stick to a regular height dining set to save space both visually and practically. Counter height sets can give a more casual vibe, while for more formal settings, a standard height table might be the better choice. In addition, most people have some extra regular height chairs on hand for extra seating in a pinch, but it can be harder to come by the taller chairs for counter height sets.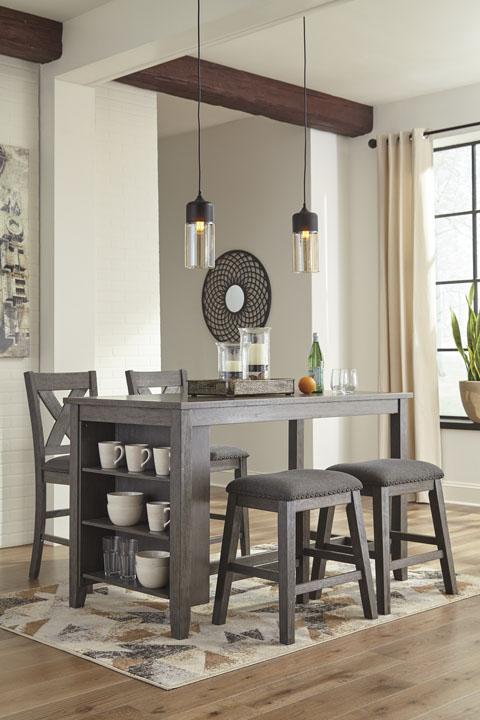 While counter height dining sets have proven to be a trend that is here to stay, there are many things to consider when deciding if this type of table set is right for you. Think about how you plan to use your space and furniture, who will be using it, and how the different heights may affect your space both physically and visually. With counter height sets now available in virtually any size, shape or style, there is a counter height set out there for everyone!
Find the perfect dining set for your space and needs by contacting Dining Furniture Showcase today!
Additional Resources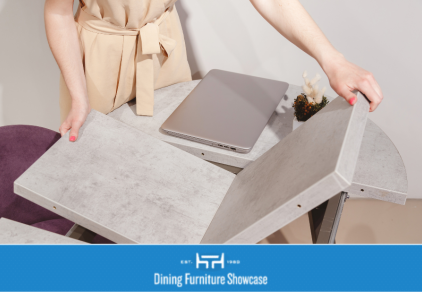 Many dining tables have extensions to make them bigger or smaller. The ability to change the size of your table is useful if you have limited space but need room for more seating on occasion. During holidays and other events, it's nice to have a…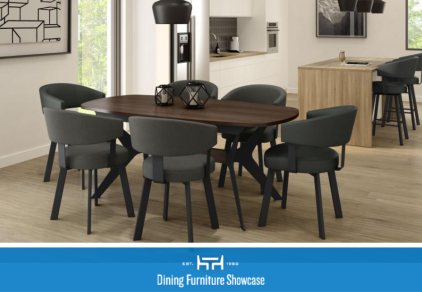 There are seemingly countless options when it comes to choosing upholstery fabric for your dining room chairs. Most in-stock items are typically available in limited colors in either a fabric or a washable vinyl upholstery. If you're customizing…